Thank you to the students from Sands Secondary who contributed to our holiday collage!
Happy Holidays from the Delta School District and Board of Education.
Schools will be closed from December 20 until January 3, with classes resuming at all schools on Tuesday, January 4, 2022.
A Message from Doug Sheppard, Superintendent of Schools
As 2021 draws to a close, my sincere wish is that life will start to get easier for us all in 2022. COVID-19 variants, heat domes, atmospheric rivers, snow and even more COVID-variants – who knew that 2021 would be such a difficult year!
Throughout all of the challenges, I have been heartened to witness countless acts of kindness by Delta students, their families and our staff – from looking out for each other on a daily basis with a smile or kind word, to looking out for those in need in the wider community through food drives, clothing drives, coin drives and even sock drives! A little kindness goes a long way, and right now, I think a little kindness is something we can all benefit from.
Earlier this year, as we engaged with stakeholders during the development of our new Vision 2030, kindness was a theme that emerged consistently. I hope you can see kindness reflected in the words used in our new Vision and Mission statements – inclusive, belong, soars, nurture, thriving – as we support Delta's students present and future.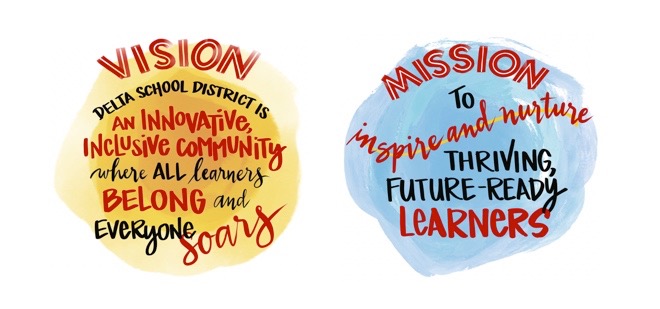 In the New Year, we will be working with students, staff and families to put the words and themes of our new Vision, Mission and Values into action.
A heartfelt thank you to students, staff, families and the wider community for your hard work, resilience and ongoing support throughout the past year. Together we are making a positive difference in the learning experiences and opportunities for each of our students.
I'd like to leave you with this thought: Every interaction has a ripple effect. What we do, what we say, how we say it… it all matters and makes an impact in big or small ways. As we bid farewell to 2021 and welcome in the new year, I encourage you to focus on leaving a wake of kindness.
I wish you a wonderful holiday season, with time for celebration, relaxation and joyful experiences with family and friends.
Warm wishes,
Doug Sheppard
Superintendent, Delta School District
Thanks to students from North Delta Secondary and Sands Secondary for this  additional holiday artwork.